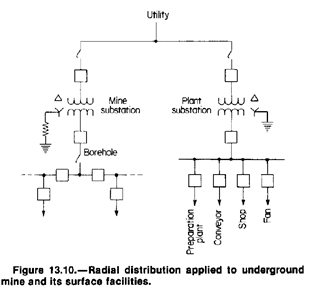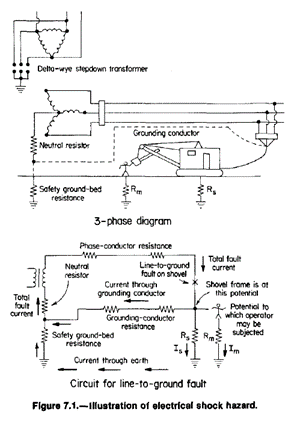 Improvement 2: Utilize Bender HRG and LRG systems to improve safety and limit point of fault damage
The processing area for different types of mines is unique to the product they are selling. They are all similar in that they do not like to have unplanned downtime -just like any industrial facility. Undue stress and costs are associated with after-hour service call-outs and the potential for not meeting delivery commitments. High resistance grounding alarm-only systems are employed at many modern facilities to improve uptime. Continuing to run until the end of a shift, batch, or through the night can help production meet their goals and help maintenance plan for troubleshooting and repair.
Consider the costs of an issue with the ventilation fans on the bottom right of Drawing 1. Diesel- and gas-powered equipment are still prevalent in mining. There are federal requirements for fresh air in underground operations, such as the mines must be evacuated for safety if the fans are not operational. HRG can help them maintain operations during a ground fault. Electric vehicles used underground have helped reduce some of the health risks associated with diesel exhaust and reduce some of the demands for fresh air.
Improvement 3: Consider adding the RCMS490 for automatic fault location
HRG systems also improve safety as there is no arc flash possible from a single phase-to-ground fault. This is a great improvement over the solidly grounded system shown in Drawing 1. It's important to note all AC systems have a risk of phase-to-phase and three phase faults that cause arc flashes – so there is no reduction in Arc Flash Personal Protective Equipment (PPE) requirements.
Another benefit for alarm only HRG systems is the ability to locate faults while the equipment is still operating. Since the 60's, pulsing ground fault detection systems have been a proven way of locating faults. Bender Series 2 and Series 3 HRG packages have optional RCMS490 12 channel ground-fault relays that can help automate the fault location and make it faster and safer for the electricians sent out to troubleshoot.
Conclusion
To improve power in mines:
Implement portable

load shock

protection with HRG
Utilize Bender NGR monitors on HRG and LRG systems to improve safety
Consider adding the RCMS490 for automatic fault location
For more information about this application or to learn more about Bender technology related to your specific application, contact our team of experts.
This article and any opinions it may contain are for informational and educational purposes only. Bender has made every reasonable effort to ensure the accuracy and reliability of the information provided on this website. However, the information is presented "as is" without warranty of any kind. Bender does not accept any responsibility or liability for the accuracy, content, completeness, legality, or reliability of the information contained and/or opinions presented in articles or posts on this website. No warranties, promises, and/or representations, expressed or implied, are given as to the nature, standard, accuracy or otherwise of the information provided in this website, nor to the applicability, suitability, or otherwise of the information to your particular circumstances.