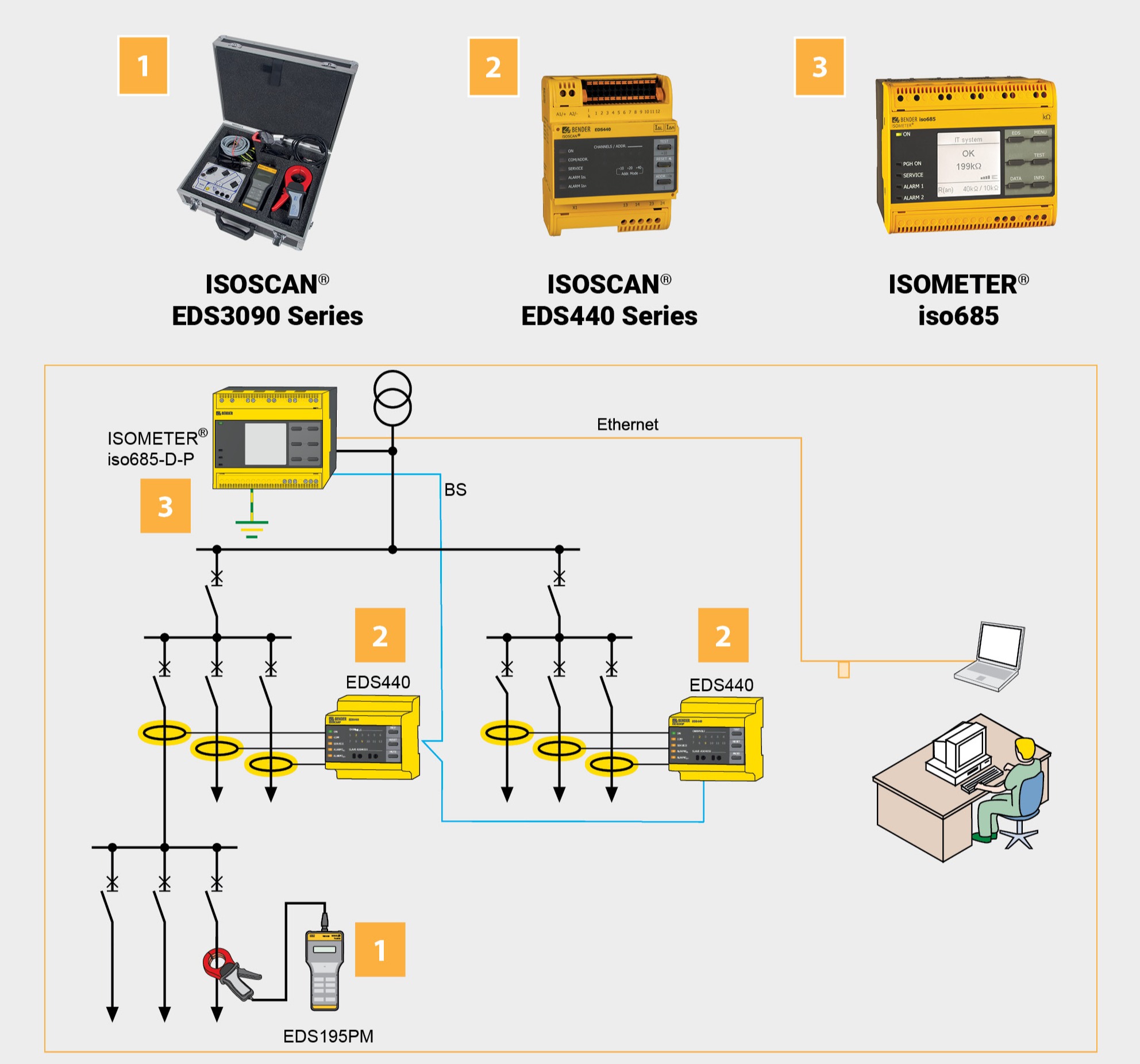 Can you explain how it works in more detail?
When paired with a monitoring device such as the iso685 Ground Fault Detector or the LIM2010 Line Isolation Monitor; you create an all-encompassing solution for fault detection. Once one of these monitoring devices detects an issue such as overcurrent detected by the LIM2010 or an insulation fault by the iso685, they will then send out a tracer pulse and communicate with the EDS series devices to detect the pulse with current transformers installed on each circuit, thereby locating the fault within seconds. The circuit with a resistive-type fault is identified with LED indication on the EDS monitor and in text on the iso685 or LIM. Additionally, when paired with one or more Bender communications modules, such as the CP907 or COM465IP, alerts and real-time data can be integrated into the facilities central DMS and/or sent via email or text message to maintenance technicians.
What are the benefits for me as a potential customer?
Detection and location of ground faults without power interruptiion


Electrical issues can be identified and pinpointed while keeping the installation fully energized

Reduced maintenance costs

Measurable decrease in maintenance costs due to the accuracy of detection and decreased need for human intervention to find ground faults

Automatic location of faults

Automatic fault location eliminates the need for maintenance personnel to open branch circuit breakers or disconnect equipment

Monitoring in real-time*


Measures the system's leakage impedance to ground to ensure safe leakage levels per code requirements

Eliminates interference*

Interference with electrical medical equipment connected to the isolated power panel is avoided

Easily integrated with other devices


Allows for interfacing with other Bender devices to provide a complete system solution
*Benefit provided by the LIM2010 (Line Isolation Monitor) for healthcare facilities and operating rooms.
How can my specific application benefit from EDS or LIM technology?
Automatic ground-fault location technology can be incorporated in a new system or added to an existing system, adding immeasurable value. Connect with our team of experts and find out how!
This article and any opinions it may contain are for informational and educational purposes only. Bender has made every reasonable effort to ensure the accuracy and reliability of the information provided on this website. However, the information is presented "as is" without warranty of any kind. Bender does not accept any responsibility or liability for the accuracy, content, completeness, legality, or reliability of the information contained and/or opinions presented in articles or posts on this website. No warranties, promises, and/or representations, expressed or implied, are given as to the nature, standard, accuracy or otherwise of the information provided in this website, nor to the applicability, suitability, or otherwise of the information to your particular circumstances.