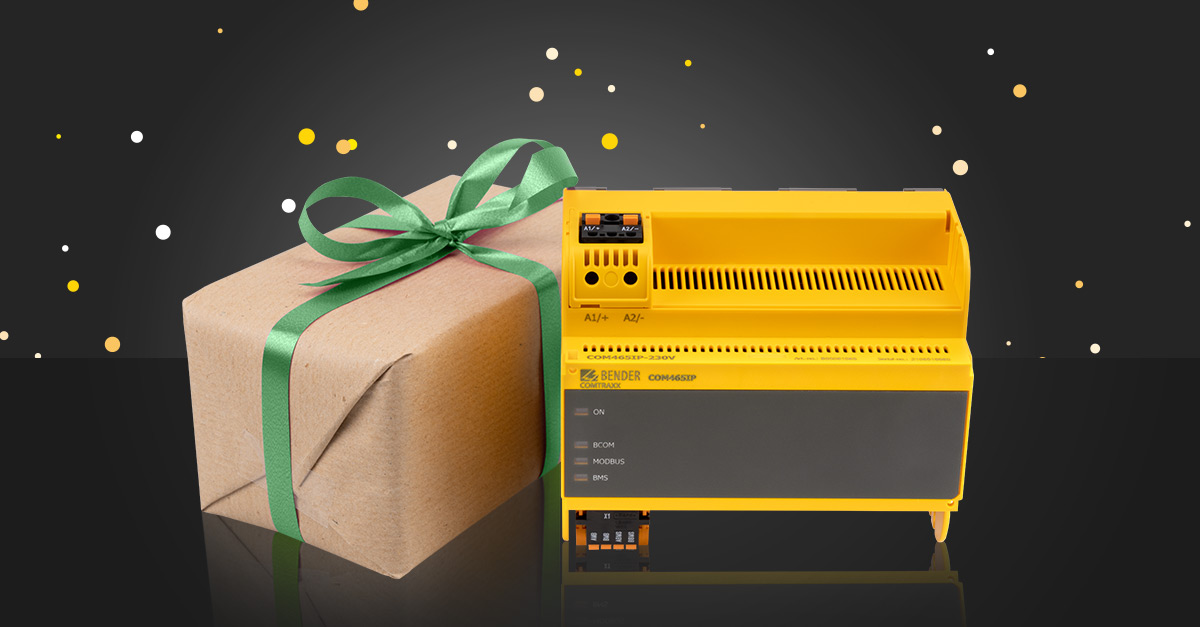 Now: Easier and Faster with the COM465 Solution
The COM465 is small in appearance (3.7" x 4.2" x 2.5") but provides tremendous benefits, making it a great addition for any electrical installation that need to be monitored. It collects all available data from both Bender and third-party devices via various interfaces (BCOM, BMS, Modbus RTU, Modbus TCP) and prepares them clearly via the built-in web server so that technicians can get a quick and easy overview of the status of the electrical installation at their PC or laptop at any time. As soon as a fault occurs, it is displayed, and the technician is informed immediately. Depending on how much monitoring technology is installed, the technician can even see where exactly the fault occurred.
The COM465 also has built-in memory that can be used to record measurement data. In this way, long-term trends can be identified, and all measurement data from the COM465 can also be recorded via the Bender cloud solution POWERSCOUT®, making it possible to monitor the system from any location.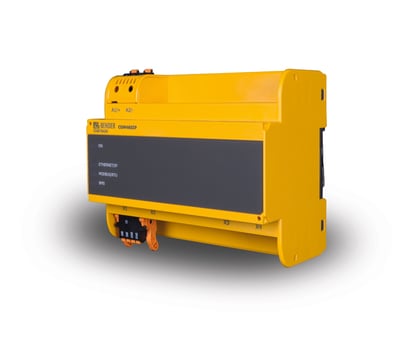 In Summary - Bender's Anniversary Gift to You
All of these features make the COM465 an indispensable helper of modern electrical installations. In summary, the COM465 offers:
Quick access to device data without complicated and time-consuming reading of measured values at the control cabinet
Immediate information about occurring faults
Data logger for recording measured values
The possibility to detect long-term changes in your system at an early stage
Monitoring of both Bender and third-party devices from anywhere in the world with the addition of POWERSCOUT®
Bender is making system monitoring even easier and cheaper for customers. For our 75th anniversary, three additional features (function modules) of the COM465 that were previously subject to a charge will be included free of charge as an anniversary gift. The anniversary software gift is available for those who plan to use a Bender COM465 for the first time, as well as anyone who is already using it.
With the three function modules included you can:
Create individual texts for system parts
Send e-mail notifications in the event of faults or alarms
Set measuring devices via PC or laptop
Create virtual measuring points and integrate them into the system
Ready to Learn More?
Time-consuming reading or checking of measuring devices in the control cabinet is no longer necessary. With the COM465, it is easy, fast, and clear. Curious? Find out here or contact our team.
This article and any opinions it may contain are for informational and educational purposes only. Bender has made every reasonable effort to ensure the accuracy and reliability of the information provided on this website. However, the information is presented "as is" without warranty of any kind. Bender does not accept any responsibility or liability for the accuracy, content, completeness, legality, or reliability of the information contained and/or opinions presented in articles or posts on this website. No warranties, promises, and/or representations, expressed or implied, are given as to the nature, standard, accuracy or otherwise of the information provided in this website, nor to the applicability, suitability, or otherwise of the information to your particular circumstances.