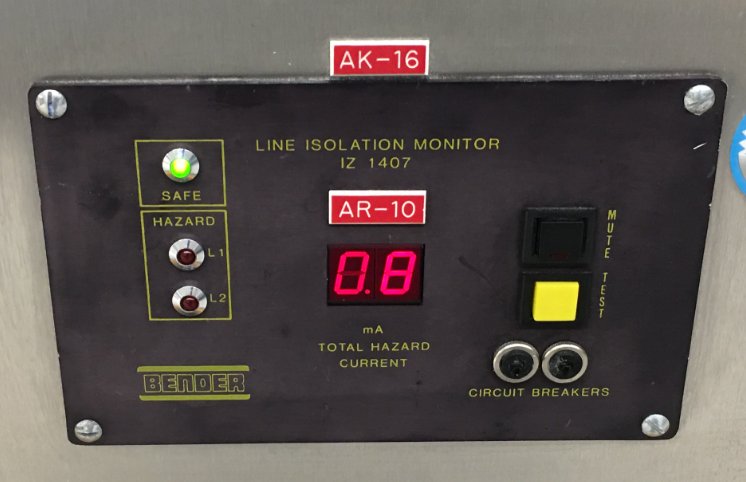 Bender's Analysis and Report
Bender's solution was to replace all existing and outdated LIMs with the new Bender LIM2010 (below). This digital LIM has significantly better noise suppression than previous models to manage the complexities in frequencies that medical devices connecting to the IPS characteristically have. In addition, the LIM2010 features a value section to understand the impacts of medical devices with respect to impedance, capacitance, voltage, total hazardous current (THC), and resistance. The consultant and health authority agreed with the LIM retrofit alongside a few receptacles and custom wiring changes, noted on the report. After the installation of the new LIM2010, it was agreed that a Bender representative would be on site to recommission the panels.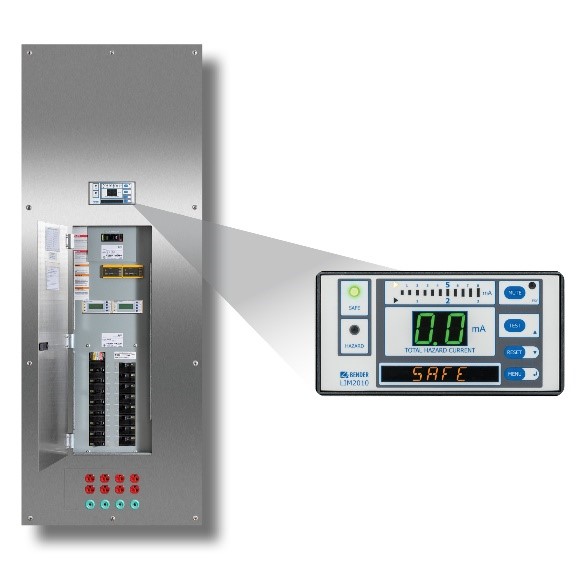 Covid-19 Complications and Virtual Services

COVID-19 interrupted this project, causing it to come to a halt due to travel restrictions and quarantine efforts. Without the capability of travel, a challenge was posed on how the panels would be re-commissioned. The hospital's maintenance department had Bender's testing equipment, LT3000, which can simulate bolted and resistive faults, to confirm LIM functionality. This led to Bender's suggestion of providing remote commissioning via video feed to confirm the integrity of the IPS to be tested as per CSA Z32 requirements. The remote commissioning will allow the two hospitals to have increased safety and operational availability in their ORs during the quarantine by resolving the issues that they have with their IPS panels.

This virtual re-commissioning project was a huge success and showcased that despite the obstacles of the COVID-19 pandemic, Bender, the health authority, the consultant, the contractor, and the maintenance group within the hospital, were able to find a solution and bring back much needed safety to the ORs.
For more information about this application or to learn more about Bender technology related to your specific application, contact our team of experts.
This article and any opinions it may contain are for informational and educational purposes only. Bender has made every reasonable effort to ensure the accuracy and reliability of the information provided on this website. However, the information is presented "as is" without warranty of any kind. Bender does not accept any responsibility or liability for the accuracy, content, completeness, legality, or reliability of the information contained and/or opinions presented in articles or posts on this website. No warranties, promises, and/or representations, expressed or implied, are given as to the nature, standard, accuracy or otherwise of the information provided in this website, nor to the applicability, suitability, or otherwise of the information to your particular circumstances.